Costumes Examples for the June 2013 Performance →
We took some sample pictures to give you ideas for the next performance. The colors for the June performance will be red/black. You do not need to copy these whatsoever. In fact we want the dancers to have their own unique look this time around. These are just meant to give examples on use of color, and possible styles. Hopefully you already have some things in your closet that will work and there...
10 tags
Vote for Small Fry Dance Club for Best of the Best... →
Hi Small Fry Families! It's that time of year again. We have been named "Best Dance Studio" for back to back years. We want to make it a three-peat! Help us by adding our name "Small Fry Dance Club" in the dance class section. You DO NOT need to fill in every category to submit the form. The link above will take you to the form, it will only take a min or two. If...
NEW HIP HOP CLASS START DATE: MARCH 7, 2013
Teacher Rena will be teaching a new "SFDC Level-Up" Hip-Hop class for ages 5-7. The class will be Thursdays from 4:10pm - 5:10pm. If you are interested in trying the class please contact our office and we can get you in. There are 12 spots available.  If your dancer is interested but not quite 5yrs old yet, that is okay. You can try the class first to see how they do.  Thanks! Small...
February Newsletter Comes Out Today!
Check your email box. Our February newsletter with our upcoming curriculum and information on how to sign up for the June Performance will be going out shortly. Performance signs ups start tomorrow! We will also post a link to the newsletter here as well.
Holiday Closure Reminder
Our offices will be closed for Martin Luther King Day on Monday Jan 21. There will be no dance classes that day at our studio or at any of our preschool locations that may have classes that day. Thank you, and have a wonderful three day weekend!
11 tags
January Newsletter
This Month: Transitioning to Tap Should I buy tap shoes? New Classes This month's curriculum focus Click Here to read the newsletter. 
We're back starting today!
We're back! Has your dancer missed class as much as we have? First classes back are CCLC Mountain View, CCLC Shores, Bright Horizons Gilead, Merry Moppet, Kindercourt and the Studio! Welcome back everyone!
12 tags
7 tags
Friendly Reminder
Our studio will be closed on Sunday December 2, as we will all be preparing for our performances that day. If you are not in the performance and you would like to come watch tickets are still available for all shows. Tickets are $8, and kids under 5 are free. Please call us at 650-393-5593 for more details.
SHARE YOUR THOUGHTS
 Have you and your dancer been through a performance with us before? Maybe more than 1, 2, or even 3? We would love to hear your experiences. Share what you think new families should expect from their dancers, I think it will help ease some of our first timers. :) I will post some of the things I have observed over the past 12 shows as well.
THANKSGIVING WEEKEND SCHEDULE
We will be close November 22-25. We will re-open on Monday November 26. Have a great Thanksgiving weekend!
NEW CLASSES IN THE WORKS
With most of our new staff in place we are ready to start planning new classes to add to our curriculum. We know a lot of you have asked about different classes for the older groups and we now have an idea of what we will be adding. Feedback on times/days from our parents is encouraged. We are here to serve our families, and hopefully find a schedule that works for everyone. Intro to Hip-Hop:...
NEW CLASSES - FREE TRIAL DAY - 11/14/12
This Wednesday we are adding new classes to our studio schedule. Teacher Laura will be leading this classes. 9:30am - 10:00am: Music & Movement 18mo. to 2yrs 10:05am - 10:50am: Dance & Performance 2-4yrs 11:00am - 11:45am: Dance & Performance 3-5yrs With so many of our classes being full this is your chance to join us. Come by for a FREE TRIAL CLASS! Sign up online at...
Small Fry Dance Club named one of best dance... →
In this month's business spotlight, we feature some of the best and most unique Dance Studios in the Bay Area. The list showcases the studio's unique offerings for kids that separate them from their competitors. In this article, you will find everything and more about dance studios that suit you and your child's needs!
CLOSED LABOR DAY WEEKEND
Friendly Reminder: The studio will be closed for Labor Day Weekend. 9/1 - 9/3. Classes will resume 9/4. Thanks, and have a great weekend!
11 tags
Exciting improvements to our Ballet Curriculum for...
These changes will apply only to our Wednesday 2pm class and our Saturday 12:45pm class. All dance and performance classes are not affected by these changes.  We have some exciting changes to announce this year for our Basic Ballet Technique class which will soon be renamed to "Intro to Ballet". These mark the first major  improvements we have made to the "Level-Up"...
Performance Information and Sign Up Form →
Performance form is up! 8/10 - 9/15 (Late... →
If you would like to participate in our Winter Ballet Performance, now is the time to register!
Performance sign ups are coming!
SAVE THE DATE: Our next performance is Sunday December 2, 2012 at the Cubberley Theater in Palo Alto. We will be opening sign ups for the performance within the next few days! So keep an eye out for that email with all the details on pricing, costumes, deadlines, and tickets. Be sure info@smallfrydanceclub.com is not being blocked by your spam filter as well. :)
Reblog this if you are a 100% dance blog
nichelledances: If you're looking for dancers on tumblr, check it: http://danceaintelitist.tumblr.com/post/27929141517/reblog-this-if-you-are-a-100-dance-blog 100% dance.
17 tags
Too Sexy, Too Soon? Not if You Hang Out at the... →
Parents trying to counter societal pressure on girls to flaunt their sexuality have a new weapon: Dance lessons.
11 tags
Benefits of dance for preschoolers →
Dance is an excellent way for your child to stay active and healthy. In addition, dance develops discipline and offers children a creative means for expressing their emotions, an opportunity that is not offered through general academics or athletics.  Perfect Even for tiny dancers Young children have a natural appreciation for music and dancing.  Dance offers an excellent opportunity to explore...
7 tags
The Arts Inspire: Bring back "Breaking Pointe" for... →
Greetings, I just signed the following petition addressed to: Mark Pedowitz - President CW Television Network. We thought we would help out our fellow dance lovers. ———————— We sign this petition because we believe in the power of the arts and the power of dance. We believe that the arts can make a difference in a life. The arts inspire, educate,...
11 tags
Fun Peninsula Waterparks for kids
Frontierland Playground Yosemite Dr and Humboldt Ct, Pacifica Designed by the families of Pacifica and hand built by the community, Frontierland Playground is one of the bay area's hidden gems. The large, enclosed play area makes it easy for parents to keep an eye on kids running loose. The playground includes a small climbing wall, musical areas made out of metal pipes, and a well/dungeon...
9 tags
Preschoolers and Creative Dance: Movers and...
Preschoolers and Creative Dance: Movers and Shakers By Rachael Carnes Why Preschool Dance? Every person can learn from dancing. Not everyone will grow up to perform dramatic leaps in a corps de ballet or to shuffle off to Buffalo with the Rockettes, but every child deserves the opportunity to dance. For babies and toddlers, creative movement offers a range of experiences that facilitate natural,...
8 tags
Great article on the advantages of extracurricular...
By Pam Gelman, M.A. Does your preschooler have a full schedule? What's the right type and amount of extracurricular activity? Some preschoolers are happiest with schedules full to the brim with planned activities, while others may need more time for imaginary play or just watching butterflies. Though many children have the stamina for activities outside of preschool, you'll want to...
6 tags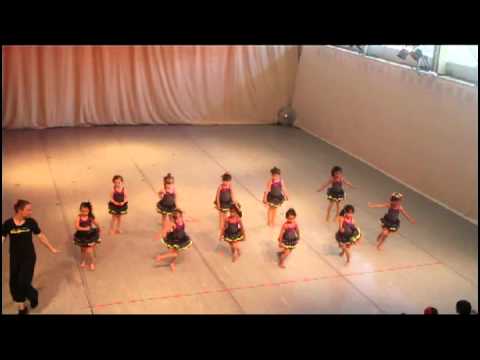 9 tags
Spring Hip Hop Performance Has Past
Congratulations to all the dancers that participated in the June 2012 Hip Hop Performance. You all did an amazing job! The teachers, staff, and all the parents are very proud of you. It is always great to see all the progress the kids make in class and how that culminates at our performances. We had a blast with Hip Hop, thank you for the great memories.  As Spring comes to a close it is time...
Shell Blvd. Closed This Weekend
Just a friendly reminder that the Foster City Arts & Wine Festival is this weekend. It is a great event but it is right up the street from us. It also means that Shell Blvd. will be closed all weekend.  If you are in one of our weekend classes please plan on taking an alternate route. Edgewater Blvd or Foster City Blvd will both take you to Beach Park Blvd and drop you behind Charter Square...
7 tags
Memorial Day Weekend Schedule
We are open on Saturday May 26, and Sunday May 27. We will be closed on Monday May 28 in observance of Memorial Day. We will re-open on Tuesday May 29. This is for both our preschool and studio locations. Thank you, and have a great weekend!
13 tags
San Carlos Hometown Days is this weekend!
Small Fry Dance Club is a proud sponsor of the San Carlos Hometown Days festival. Hometown Days was voted best family festival by Bay Area Parent Magazine. We will be there all weekend. Swing by our booth to learn about our programs. Everyone that signs up for a demo class will get a free $10 gift card to use on deals at PlumDistrict.com. Which by the way we will be offering a deal through next...
9 tags
San Carlos Hometown Days - May 18, 19, 20
Proud Sponsor of San Carlos Hometown Days Small Fry Dance Club will once again be a sponsor of the San Carlos Hometown Days festival. SCHTD was voted "Best Family Festival" by Bay Area Parent. It is really one of the best weekends to go out and enjoy some family time. For more info visit www.sancarloshometowndays.com Watch our Saturday Group Perform on stage! This year we will...